Biography Of Ian Botham- Most Dominant And Domineering English All-Rounder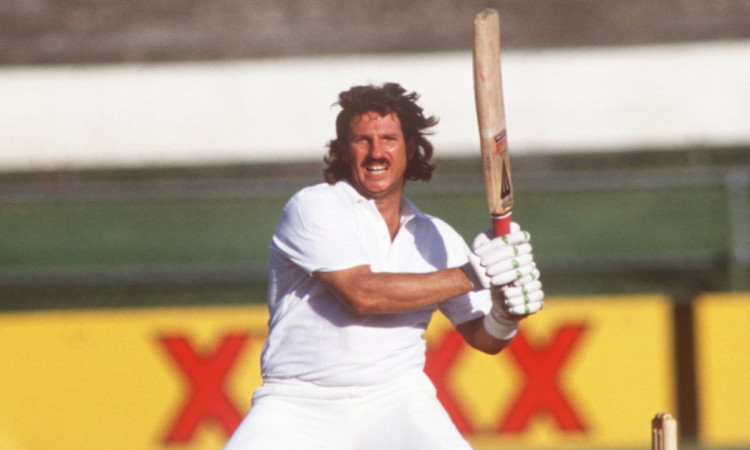 Dominant and domineering, Ian Botham was one of the finest all-rounders of all time and the fastest to the double of 1000 runs and 100 wickets. An English icon, full of endless self-belief, he had the ability to change the course of a game in an afternoon. With him, England was a side to reckon with during the 70's and 80's. Botham was also a talented footballer, and made 11 appearances in the Football League.
Ian Botham was not merely the top English cricketer of the 1980s but the leading sports personality and commanded endless newspaper headlines as his career surged improbable heights and bottomless depths. While at times a controversial player both on and off the field Botham still holds the record for the highest number of wickets taken by an England bowler and was conferred knighthood in recognition of his services to charity.
Ian Terence Botham was born November 24, 1955 in Heswall, Cheshire. Both his parents played cricket which helped him a lot in childhood to get valuable knowledge of the game. He later moved to Yeovil, Somerset where he began playing cricket - playing for Somerset under 15s. As a youngster he was also a talented footballer - for a short time he played for Scunthorpe United, before settling on cricket as his chosen sport.
After leaving school early at the age of 15, he played for Somerset (although he also had an offer to play football for Crystal Palace), making his first class debut in 1974, aged 18. In that year, when playing against Hampshire and facing the West Indian fast bowler Andy Roberts, a bouncer hit him straight in the mouth. He spat out teeth and simply carried on batting, such was his love for the game. After 12 seasons of playing for Somerset, he resigned in 1986, in protest at the sacking of his West Indian friends Sir Vivian Richards and Joel Garner. He later played for Worcestershire, Durham and Queensland in Australian cricket.
Throughout his career Botham relished the big stage, and proof of that came early in his Test career, which began in truly spectacular fashion. Botham made his Test debut for England on 28 July 1977 in the Third Test against Australia, where he took five wickets for 74 runs in the first innings. He went on to enjoy a Test career spanning 15 years, in which he played in 102 matches with 5,200 runs at an average of 33.54, taking 383 wickets at an average of 28.40, and holding 120 catches.
The figures on their own are not spectacular, but Botham frequently made a big impact in important games. He could also score at a quick rate and some of his innings were memorable, even if didn't score a century. He had tremendous power and could hit the ball out of the ground, though he also had a good technique. His swing bowling was effective for his ability to move the ball - even when his pace slowed down in later years, he could make a big difference.
The frenetic pace of accumulating runs and wickets continued well into his second and third years-he got to 100 Test wickets in his 19th Test - only four bowlers had done better in the entire history of Test cricket - while his 200th wicket came in his 41st, which was again the fifth-fastest. India were clearly his favourite opposition during this period in which he dominated with both bat and ball in the 1979 series at home, scoring 244 runs and taking 20 wickets in three Tests. When England toured for the one-off Golden Jubilee Test, Botham was the standout performer in that game, scoring 114 and taking 13 wickets in the match, thus becoming the first player to score a century and take 10 wickets in a match. It was also the third time Botham scored a century and took a five-for in Tests, a feat he achieved five times in his career; no other all-rounder has done this more than twice.
In 1980, Ian Botham was made captain of England. However, it was not a success. He lost form and England didn't do well. Also not everyone in the dressing room was enamored of Botham's style. After first two tests in the Ashes series of 1981, Botham resigned the captaincy, with England trailing 1-0 and struggling to have any hope of winning series. In the second test at Lord's Botham scored a pair.
In the third test at Headingley, Brearley was made captain. The test got off to a bad start for England. Australia scored a big innings total 401-9. But, in reply, England could only make 174 - with Botham top scoring on 50 not out. In the follow on Saturday, England's top order again failed.
Botham came to the crease when England was reeling at 135-7. Defeat looked inevitable. No-one in the ground expected England to have the faintest chance. But, as Graham Dilley joined Ian Botham in the middle, Botham let fly and played an innings of superb quality and attacking flair. Hitting the ball over the ground, he accelerated to 149 not out. He was ably supported by the England tail. Still England's lead was just 129. There was only a feint chance of winning, but Botham had restored England's pride. However, Bob Willis bowled with exceptional talent to bowl out the Australians for 111. Willis finished with 8 for 43. England had won a classic game by just 18 runs. It was only the second team to win a game after following on. Botham was the hero and England won the series 3-1. Botham was named man of the series, scoring 399 runs and taking 34 wickets. He was awarded BBC Sports Personality of the year in 1981. The series remained famous and came to be known as "Botham's Ashes".
One of his best ODI bowling performances over an entire tournament was in the 1992 World Cup. Bowling at little more than medium pace, and at a time when his Test fortunes were dwindling, Botham varied his speed and movement so cleverly that he picked up 16 wickets in 10 games and was instrumental in guiding England to the final. In fact, he was the second-highest wicket-taker, while his economy rate was also among the best in the tournament.
Though he remained an international cricketer until 1992, the great days became fewer. As his weight increased, his outswing became less effective. He could still hit a cricket ball with enormous power, but never once did he pass the ultimate exam of his era: scoring a Test century against the West Indians. Still, he could be mystical. Banned by insistent newspaper demand in 1986 for taking cannabis, he was recalled at The Oval against New Zealand, and with his second and 12th balls took the two wickets he needed to equal and pass Dennis Lillee's then-world record of 355 Test wickets.
As well as his cricketing career, he was a prolific charity fund raiser. To raise funds he undertook grueling walks. His motivation for undertaking charity walks occurred when he went to a hospital in Somerset to receive treatment for a broken toe. By mistake, he took a wrong turn into a terminally ill children's ward and was moved by the fact many children had only a few weeks to live. After retiring from cricket he worked as a commentator for Sky Sports, becoming a regular voice on TV.