Biography Of Ian Chappel- The Fearless Australian Batsman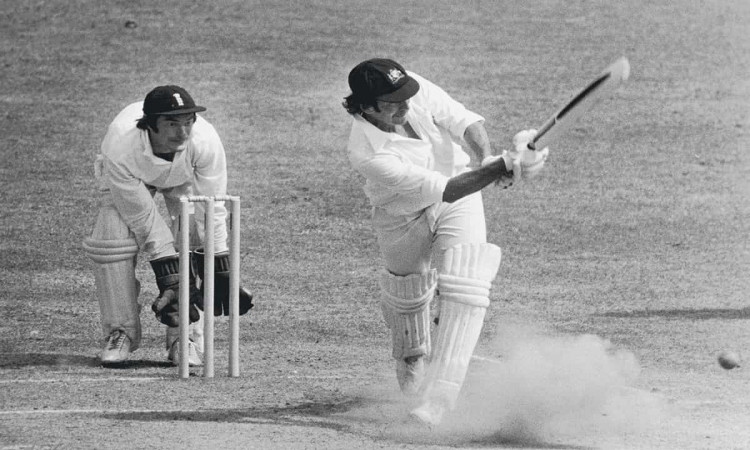 Ian Chappell was a fearless batsman who hooked and pulled with an indomitable spirit throughout his career, eager to attack and score briskly. Across two full decades of first-class cricket he always strode purposefully to the crease with an upturned collar and a compulsion to fidget, repeatedly marking out his guard and adjusting his protector in a series of idiosyncratic tics.
Chappell's blunt verbal manner often led to a series of confrontations with opposition players and cricket administrators; the issue of sledging first arose during his tenure as captain .John Arlott called him, "a cricketer of effect rather than the graces
The first of three sons born in Adelaide to Martin and Jeanne, Chappell was steeped in the game from an early age. His father was a noted Adelaide grade cricketer who put a bat in his hands as soon as he could walk, and his maternal grandfather was a famous all-round sportsman Vic Richardson, who captained Australia at the end of a nineteen-Test career. Chappell was given weekly batting lessons from the age of five, as were younger brothers Greg and Trevor, who both went on to play for Australia.
Chappell grew up in the beachside suburb of Glenelg and attended the local St Leonard's Primary School where he played his first competitive match at the age of seven. He was later selected for the South Australian state schoolboys team. Chappell was also a noted Australian football and baseball player and excelled in these events in the local tournaments. At the age of 18, his form in grade cricket for Glenelg led to his first-class debut for South Australia (SA) against Tasmania in early 1962. Chappell replaced West Indian Gary Sobers who was selected for a Test match in the Caribbean.
In 1963–64, Chappell batted at number three for South Australia for the first time, in a match against Queensland at Brisbane, and scored 205 not out. He was the youngest member of the SA team that won the Sheffield Shield that season. A century against Victoria the following season resulted in Chappell's selection for a one-off Test against Pakistan at Melbourne in December 1964. He made 11 and took four catches, but was dropped until the Fourth Test in the 1965–66 Ashes series. Chappell supplemented his aggressive batting with brilliant fielding in the slips, and he showed promise as a leg-spinner.
He retained his place for the following Test and for the tour of South Africa in summer 1966–67. Playing in a side defeated 1–3; Chappell struggled to make an impression. In the first Test of 1967–68 against India, he failed twice batting in the middle order. Heading into the second Test at Melbourne, Chappell's place was in jeopardy, but he rode his luck to score 151 – his innings contained five chances that the Indians failed to take. However, in the remainder of the series, he managed only 46 runs in four innings, so his selection for the 1968 tour of England was based as much on potential as form.
In England, Chappell rewarded the faith of the selectors by scoring the most first-class runs on the tour (1,261 runs, including 202 not out against Warwickshire), leading the Australian Test aggregates with 348 runs (at 43.50).
A string of big scores and a record number of catches during the 1968–69 season earned Chappell the Australian Cricketer of the Year award. Following up with a successful tour of India in late 1969, Chappell demonstrated his fluency against spin bowling by compiling Test innings of 138 at Delhi and 99 at Kolkata. His ability against both fast and slow bowling earned high praise, including from his captain Bill Lawry.
It's no coincidence that Ian Chappell never lost a single Test series as Australian captain. Though he'd inherited a mess after Bill Lawry's exit in 1971, his men lived and breathed the Gospel of Chappelli (as he was famously known) and he extracted every ounce of ability from them. His younger brother Greg made his debut in the second Test of the summer against Ray Illingworth's England. Facing an English attack led by the hostile fast bowling of John Snow, Chappell scored a half-century in each of the first two Tests, but failed to capitalize on good starts while Greg Chappell scored 108 in his initial innings.
He took the team to England in 1972 and was unlucky not to regain The Ashes in a rubber that ended 2–2. Greg Chappell emerged as a prolific batsman during the series, batting one place below his brother in the order. The siblings shared several crucial partnerships, most notably 201 at the Oval in the last Test when they became the first brothers to score centuries in the same Test innings.
In 1972–73, Australia had resounding victories against Pakistan (at home) and the West Indies (away). Chappell's leadership qualities stood out in a number of tight situations. He hit his highest Test score of 196 (from 243 balls) in the first Test against Pakistan at Adelaide. Australia played six Tests against New Zealand on both sides of the Tasman in 1973–74. Chappell led his team to a 2–0 victory in the three Tests played in Australia. During the third Test at Adelaide, he equalled the world record of six catches in a Test match by a fielder, which was beaten by his brother Greg the following season. In the drawn first Test at Wellington, the Chappells became the first brothers to each score a century in both innings of a Test match. The Australians lost to the Kiwis for the first time ever in the second Test at Christchurch, when Chappell was involved in a verbal confrontation with the leading New Zealand batsman, Glenn Turner.
The highlight of Chappell's career was Australia's 4–1 win over England in 1974–75 that reclaimed The Ashes. Strengthened by the new fast bowling partnership of Dennis Lillee and Jeff Thomson, the Australians played aggressive cricket and received criticism for the amount of short-pitched bowling they employed.
The workload of the captaincy was telling on Chappell and the four-Test Ashes series that followed the World Cup dampened his appetite for the game and he eventually announced his resignation from the captaincy on the final day of the match. In 30 Tests as captain, he scored 2,550 runs at an average of 50, with seven centuries.
Throughout his career, Chappell found the ACB obdurate in his attempts to make a living from the game. In 1969 and 1970, they refused his applications to play professionally in England. Approached to lead an Australian team in World Series Cricket (WSC), a breakaway professional competition organized by Kerry Packer for Channel Nine, Chappell signed a three-year contract worth A$75,000 in 1976.
Convinced to return to official cricket when WSC ended, Chappell resumed as captain of SA in 1979–80, a decision he later regretted. Reported by an umpire for swearing in a match against Tasmania, he received a three-week suspension. In his first match after the ban, he was again reported for his conduct in a game against the touring English team. Given a suspended ban by the ACB, he was then selected for Australia's last three Tests of the season. His Test career finished with scores of 75 and 26 not out at the MCG against England in February 1980.