Short Biography of Kepler Wessels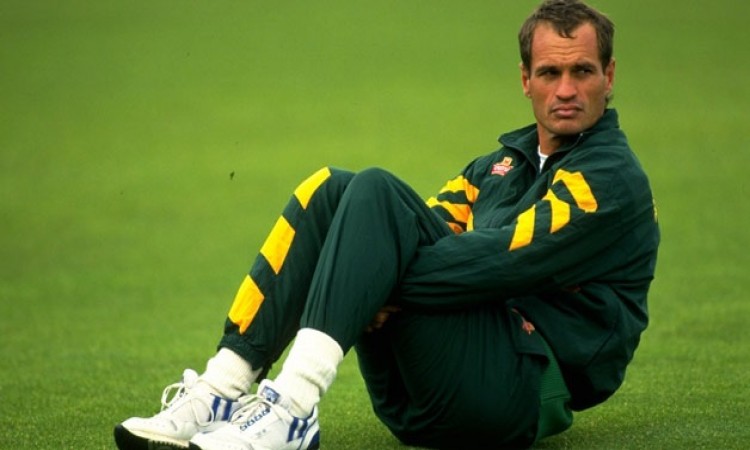 Kepler Christoffel Wessels is a former South African cricketer, who holds the unique distinction of plying for Australia and South Africa national teams and later also became the first South African captain of the modern era. A left-handed opening batsman, Wessels also served as the coach for the Indian Premier League franchise Chennai Super Kings in 2008.
Kepler Wessels was born in Bloemfontein on September 14, 1957. He was educated at Grey College and, though gifted at both boxing and tennis, he insisted on learning about cricket, a game not previously linked with the traditions of Afrikanerdom.
Wessels was six years old when he was introduced to the game of cricket by his sister's boyfriend, Johan Volsteedt. Volsteedt taught him the basics of the game and began to regularly play cricket with him during Sunday visits to the Wessels household. A few years later, Volsteedt became the master in charge of cricket at Grey College, Bloemfontein, and coached Wessels during his playing days for the school's first team. During winter, he played tennis, at which he won so frequently that, by 1973, he was the number 1 under-16 player in South Africa and was offered a scholarship of $25 000 over four years from the University of Houston.
He made his first-class debut at the age of 16, batting at number nine and making 32 for Orange Free State in a team captained by the Test veteran Colin Bland. At 18 he was playing professionally in England, opening the batting for Sussex.
In the late 1970s, Wessels was drafted by Kerry Packer to play for the Australian World Series Cricket Team. As a South African with little hope of playing Test cricket for his country, Wessels joined it to take advantage of the better pay and conditions that the WSC offered.
Short Biography of Sunil Gavaskar
He arrived in Sydney at the age of 21 and was put on trial at the local Waverley club, for Packer to see first if Wessels was decent material for World Series Cricket. After scoring 123 against Penrith, newspapers started speculating about a place for Wessels in the New South Wales state side. The media was unaware that Wessels had already signed for Packer. An innings of 137 followed against the Sydney club side and the selectors immediately named him in the state training squad. That was the signal Packer needed and he quickly called a press conference to announce that Wessels would be playing World Series Cricket instead.
Wessels stayed in Australia to qualify for the Australian Test side, playing for Queensland, and made his debut against England at The Gabba in Brisbane on 26 November 1982. He became the first South-African born person to play for Australia, and the 13th Australian player to score a century on debut. Wessels dominated the English bowling, with scores of 162 in the first innings and 46 in the second. He was instrumental in Australia's victory by seven wickets and was given the "Man of the Match" award. He eventually played four Tests in his debut series and scored 386 runs at an average of 48.25.
In April, 1983, Australia played their inaugural Test match against Sri Lanka. Wessels continued his good form with 141, thus becoming the first Australian player to score a century against Sri Lanka. Wessels played in each of the five Tests against Pakistan, scoring 256 runs at an average of 42.66. This included 179 in the third Test, which remained his top score.
In an important series against West Indies, Wessels could not continue his good form and injury ruled him out of the rest of the series. He was dismissed by West Indian fast bowler Joel Garner three times, and was nicknamed "Joel's bunny" as a result. For the first time in his Test career, Wessels' form had deserted him and he was not a certainty for selection when the West Indians toured Australia in 1984-85. However he won man of the series during a five-match one day tour of India in September and October 1984.
As a Test player, Wessels' most successful period came during the disastrous West Indian tour of Australia. Wessels scored 505 runs at an average of 56.11 against the West Indies, which was more than double the amount of runs scored by any other Australian batsmen during that series. Given the dominance of West Indian bowling at the time, and the fragility of the Australian batting line-up, Wessels' performance during that series was world class.
Wessels' final match for Australia was the first Test against New Zealand in Brisbane on November 1985. Wessels was alone in resisting the devastating bowling of Richard Hadlee, scoring 70 out of Australia's first innings total of 179. He scored only 3 in the second innings, with Australia suffering its heaviest defeat against New Zealand.
Soon after the match was finished, Wessels announced his retirement, expressing his disillusionment with Australian cricket. Little did he realise that 6 years later he would be playing Test Cricket again, this time for his home nation.
In 1992, he moved back to his native South Africa after the apartheid issue was cleared and was made Test and ODI captain at the age of 34, mainly due to his vast experience in international cricket with Australia. He captained the national team to the semi-finals on the 1992 World Cup where they narrowly lost to England due to an unfortunate rain break. In 1993/94 he went back to Australia, only this time at the helm of the opposition team. After the first drawn Test, South Africa managed to win the Sydney Test in front of a capacity crowd. The win came at a cost though as Wessels suffered a hand injury and had to return. In the return tour, when the Aussies toured South Africa, he was reinstated as the captain but retired immediately after the tournament.
Following his retirement, he took to coaching and was in charge of English county side Northamptonshire till the year 2006.
International Career
Test Cricket
Matches - 40, Runs - 2788, Avg. - 41, 100s - 6, 50s - 15, HS - 179, catches - 30
One Day Cricket
Matches - 109, Runs - 3367, Avg. - 34.35, 1001 - 1, 50s - 26, HS - 107, Catches - 49, Wickets - 18
Abhishek De