Short Biography of Sri Lankan Batsman The Mad Max, Aravinda de Silva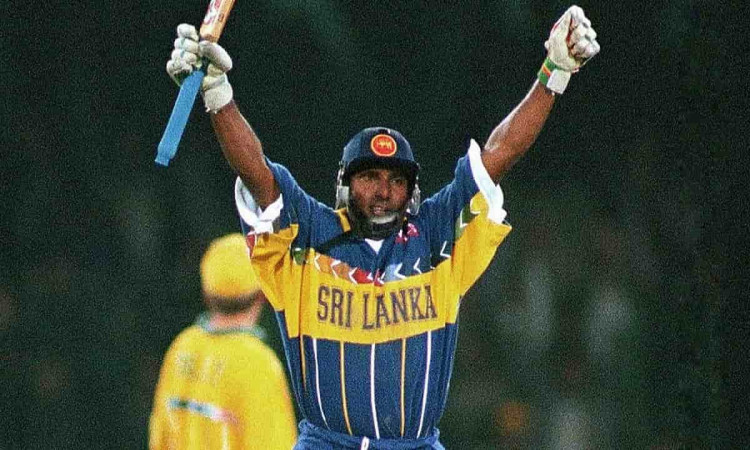 Pinnaduwage Aravinda de Silva is a former Sri Lankan cricketer, who is considered one of the finest batsmen produced by the country. He is also regarded as one of the most elegant batsman in his generation, and to date is the only player to make a hundred and take 3 or more wickets in a World cup final. He was the head of the national selection committee briefly before stepping down after the ICC Cricket World Cup 2011.
He stands at 5ft and 4 inches and arguably there has not been a better smaller player from the island nation. His enthusiasm was amazing and was a virtual ever-present in the Sri Lanka side and also played first-class and club cricket in England, South Africa and Australia. His international career ended with the 2003 World Cup, where he batted with all the verve and panache of old and bowled his off-spinners cannily.
Silva was born in Colombo on October 17, 1965, and, in spite of his size (5 ft. 3½ in) and soon demonstrated his exceptional talent. Like many small men, he learned to cut and hook proficiently. He started attacking the ball while playing weekend club cricket that scarcely differed in approach from the Sunday League in England. Hence De Silva's fondness for the one-day game (it was no coincidence that Kent won the League during his one season with them) and his desire early in his career not to let anything go by outside off stump. As a 19-year-old, he took part in his country's first victory, against India in Colombo, making 75 in the second innings.
During the early part of his career he was known as a dashing but inconsistent batsman – he was given the nickname "Mad Max" for his tendency to get out to rash shots. But a successful season playing first-class cricket for the English county Kent in 1995 marked a turning point in his career.
De Silva was instrumental in Sri Lanka's triumph in the 1996 Cricket World Cup where his unbeaten century and three wickets earned him the Man of the Match award in the final against Australia. His other notable achievements include scoring a century in each innings of a Test match on two separate occasions (only bettered by India's Sunil Gavaskar and Australia's Ricky Ponting, who each performed this feat three times). One of these doubles was 138 and 105, both undismissed, against Pakistan at Colombo's Sinhalese Sports Club in April 1997. This made him the first, and so far only, player to score two not out centuries in the same Test match. As he had scored 168 in the second innings of the previous Test, he posted three hundreds in eight days. He finished the year with 1220 runs at 76.25.
Following the Sri Lankan tour of New Zealand De Silva joined the English county side Kent in April 1995 on short notice after Kent's leading batsman of the previous season, Carl Hooper, left to join the West Indies team for the summer. The season proved to be a mix of disappointment and success for Kent, as they finished last (18th) in County Championship with only three wins and four draws out of 17 matches played. Their form in the 40-overs National Cricket League was much better, and they finished on top of the league table with 12 wins, four losses and one abandoned match. In addition, Kent reached the final of Benson & Hedges Cup, where they lost to Lancashire by 35 runs despite de Silva's 112 runs. Personally for de Silva, the time spent with Kent marked the turning point in his career. He was the third most prolific batsman of the County Championship in 1995 after Mark Ramprakash and Nasser Hussain with 1661 runs at an average of 59.32 and six centuries including the highest score of the season, 255. He was also often called to perform as fifth or sixth bowler, a role where he proved to be relatively economic but inefficient wicket-taker.
De Silva's batting form slumped in the three-test series in Australia, where the Sri Lankan batsmen struggled with the bowling of Glenn McGrath, who took 21 wickets while de Silva managed 98 runs at an average of 16.33. In the third test he acted as captain after the regular captain Arjuna Ranatunga pulled out due to finger injury. The series was shrouded in controversy, as in the first Test Sri Lanka was first found guilty of ball-tampering only to be exonerated later by International Cricket Council, while in the second Test the Australian umpire Darrell Hair no-balled Sri Lankan bowler Muttiah Muralitharan seven times in just three overs for throwing. Concurrently with the Test series Sri Lanka also participated in three-nation ODI series with Australia and West Indies. In the seventh match of the tournament against West Indies Muralitharan was again called for throwing and did not play again in the ODI series. The tournament was won by Australia, who beat Sri Lanka in both final matches, confirming their favorite position in the forthcoming ICC World Cup in the Indian sub-continent.
In the absence of Ranatunga, de Silva captained Sri Lanka in the ODI tournament until Ranatunga returned in the later stages and finished the series as Sri Lanka's top batsman with 258 runs at an average of 25.80.