Short Biography of Sir Garfield Sobers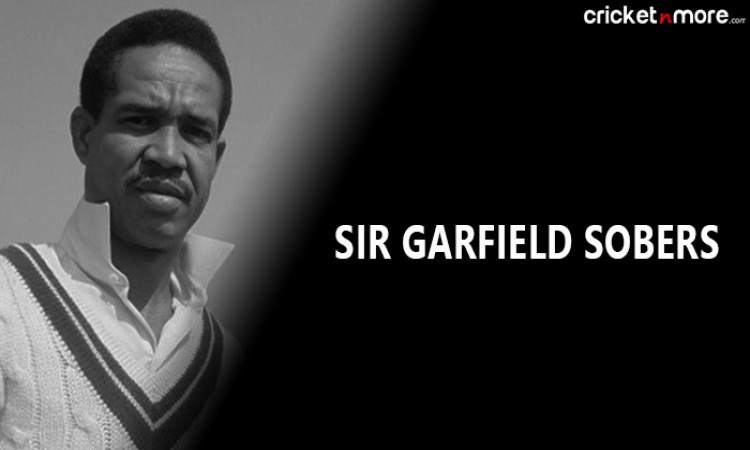 Sir Garfield Sobers popularly known as Gary Sobers iis a former West Indian cricketer, regarded as the finest all-rounder ever in the cricketing history. Sobers was a versatile bowler who used to bowl in three different styles - left-arm seam and swing, slow left-arm orthodox, and left-arm wrist spin. Because of his all-round ability, Bradman called Sobers the "five-in-one cricketer".
Gary Sobers was born on 28 July 1936 in Bridgetown, Barbados and was the fifth of six children. At birth he had two extra fingers, one on each hand, which he removed himself during childhood. From an early age, Sobers demonstrated the talent and ability to play with great skill almost any sport involving a ball, particularly cricket, football and basketball. Due to his impressive skill, Sobers became in great demand so much that at an age of 13 he was recruited to play for two cricket teams.
Sobers mainly came into the limelight when Inspector Wilfred Farmer gave him a chance to represent Barbados Police cricket team in which he immediately made an impression and gradually made his first class debut in the 1951-52 season taking seven wickets in his very first match.
Short Biography of Sunil Gavaskar
Sobers didn't immediately set the world on fire when he entered Test cricket. For the first three years or so he was fairly ordinary, with only one half-century to show in his first 15 innings. The first sign of his truly precocious talent came during the course of a resounding defeat at the hands of England at The Oval in the summer of 1957. In extremely difficult batting conditions, in which West Indies were bundled out for 89 and 86 in their two innings, Sobers scored 39 and 42. No other West Indian batsman touched 30 in either innings.
From 1958, Sobers batting graph soared and in his next 24 Tests, he scored 2,250 runs at the exceptionally high average of 93.75. In only his third Test of the year, against Pakistan in Kingston, he scored a monumental unbeaten 365. It was the record for the highest Test score, and stayed that way for the next 36 years, which is the longest, any batsman has held this record.
Largely inspired by new West Indies captain Frank Worrell, who was a close personal friend, Sobers had an outstanding 1960–61 series in Australia. Sobers scored 430 runs in the series with two centuries and 12 catches though Australia won 2–1. Though West Indies lost Sobers had a very positive outcome and received an invitation from Don Bradman to play for South Australia in 1961–62.
Sobers took 15 wickets in the 1960–61 series, including a best analysis of 5/120, at an average of 39.20.His bowling allowed Worrell to play an extra batsman in the final three Tests, thus using Sobers for the first time as a designated all-rounder, a role in which he became the dominant player in world cricket over the next decade, being awarded the Wisden Leading Cricketer in the World title (retrospectively) eight times in 13 years.
Sobers enjoyed immediate success as West Indies captain (1965-74) when his team defeated Australia by 179 runs in the First Test at Sabina Park. West Indies went on to win the series 2–1 and claimed the new Frank Worrell Trophy. This was the first time West Indies had beaten Australia in a Test series. He lost a series for the first time in 1967–68 when West Indies were surprisingly beaten at home by England. Four matches were drawn and England won the Fourth Test at Queen's Park Oval following a controversial declaration by Sobers which enabled England to score the necessary 215–3 to win at just four runs an over.
When South Africa was banned from international cricket because of the country's apartheid policy, the team's two lucrative tours to England in 1970 and to Australia in 1971–72 were cancelled. The cricket authorities responded by forming Rest of the World teams to play unofficial Test series in lieu and these teams included some leading South African players. Sobers was invited to captain the Rest of the World in both series.
The greatest exhibition of batting came at the MCG in 1972, when Sobers, playing for World XI, destroyed an Australian attack that included a rampant Dennis Lillee on the way to 254. A few years earlier, a much lesser bowler, Glamorgan's Malcolm Nash, had been at the receiving end when Sobers spanked him for six sixes in an over, the first time it had ever happened in first-class cricket.
Sobers was briefly engaged to Indian actress Anju Mahendru after he met her on the 1966–67 tour of India. He married Pru Kirby, an Australian, in September 1969. They had two sons, Matthew and Daniel, and an adopted daughter, Genevieve. The marriage ended in divorce in 1990 after the couple broke up in 1984 however, Sobers acquired dual Australian citizenship through this marriage.
He retired in 1974 and was knighted in 1975. His batting 8,032 runs in Test matches (1953–74) set a record, as did his 26 centuries (100 runs in a single innings). He was named one of Wisden's five cricketers of the century in 2000. Sobers wrote several books on cricket, including a novel, Bonaventure and the Flashing Blade (1967), and, with J.S. Barker, a history of cricket in the West Indies (1967).
In 2004, the International Cricket Council (ICC) inaugurated the Sir Garfield Sobers Trophy which is awarded annually to the player selected by ICC as its Player of the Year.
International Statistics
Test Career
Matches - 93, Innings - 160, Runs - 8032, Highest Score - 365*, 100s - 26, 50s - 30, Avg. - 57.78,
Wickets - 235, 5w - 6, Avg. - 34.03, BB - 6/73, Catches - 109
ODI Career
Matches - 1, Innings - 1, Runs - 0,
Wickets - 1,Avg. - 31, BB - 1/31, Catches - 1
---
Abhishek De