Biography Of Indian Legend Rahul Dravid - The Wall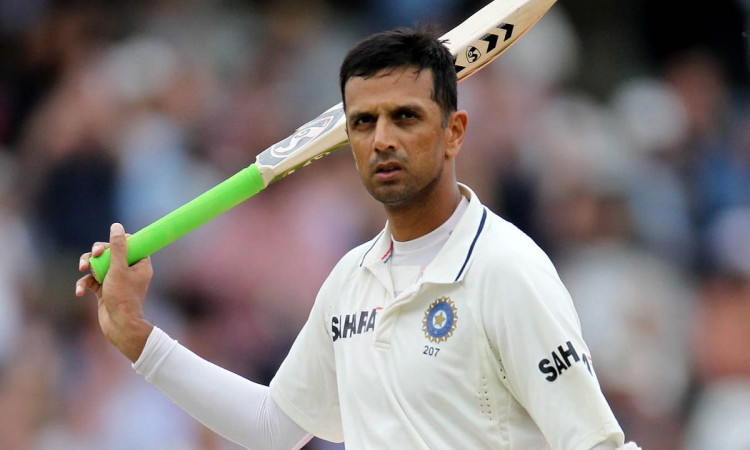 Rahul Dravid was probably one of the last classical Test match batsmen. His progress into the national side may have been steady and methodical rather than meteoric, but once there, Dravid established himself at the vanguard of a new, defiant generation that were no longer easybeats away from home. There has rarely been a historic Indian win without a vital contribution from 'The Wall', yet, playing in the Tendulkar era, his achievements have been eclipsed by the blinding presence of the great 'Little Master'.
Dravid was born in a Maharashtrian Deshastha Brahmin family in Indore, Madhya Pradesh. His family later moved to Bangalore, Karnataka, where he was raised. Dravid's father worked for a company that makes jams and preserves, giving rise to the later nickname Jammy. He did his schooling at St. Joseph's Boys High School, Bangalore and earned a degree in commerce from St. Joseph's College of Commerce, Bangalore. He was selected to India national cricket team while studying MBA in St Joseph's College of Business Administration
Dravid started playing cricket at the age of 12, and represented Karnataka at the under-15, the under-17 and the under-19 levels.Former cricketer Keki Tarapore first noticed Dravid's talent while coaching at a summer camp in the Chinnaswamy Stadium. Dravid scored a century for his school team. He also played as wicket-keeper. Dravid made his Ranji Trophy debut in February 1991, while he was still attending college.
One of the three prominent Karnataka cricketers to make their mark in the 90s, along with Anil Kumble and Javagal Srinath, Dravid seemed like he was born out of a batting manual with a strikingly "textbook" technique. In an age where batsmen were innovating and tweaking the norm as the game evolved, Dravid stuck by the methods that he was blooded with. His earliest Test impact of note following a 95 on debut was against South Africa in 1997, when he backed his maiden century (148) with a half-century to lead India to a rare away draw. A series of impressive knocks strengthened Dravid's foundation in the team. Lack of flamboyance was his lone limitation during his formative years. Whilst effective in Tests, it often frustrated fans in limited overs.
A metamorphosis took place during the 1999 World Cup, beyond which Dravid's batting became a marvellous sight to behold in all forms of the game. By 2002, he successfully shed his defensive style and no longer seemed shadowed by the famed Tendulkar-Ganguly opening duo. Since then, the Number 3 batsman carved his own niche as India's batting anchor. A decade and a half later, he became the only Indian batsman barring Tendulkar never to have been dropped from the Test side since debut.
Never a natural athlete, he compensated with sheer hard work and powers of concentration that were almost yogic. At Adelaide in 2003, when India won a Test in Australia for the first time in a generation, he batted 835 minutes over two innings. A few months later, he was at the crease more than 12 hours for the 270 that clinched India's first series win in Pakistan. Initially seen as a liability in the one-day arena, he retooled his game over the years to become an adept middle-order finisher. The heaves and swipes didn't come naturally, but by the time the selectors eased him aside in early 2008, he had more than 10,000 runs to his name in the 50-over game. There had also been a lengthy phase where he donned the wicketkeeping gloves, helping the team to find a balance that was crucial in the run to the World Cup final in 2003.
Following the match-fixing controversy, he was appointed deputy to captain Ganguly and the added responsibility egged Dravid to greater consistency. He notably played a vital supporting role to VVS Laxman in India's historic defeat of an all-conquering Australia in 2001. By 2004, he had scored centuries against every Test-playing nation. Captaincy duty soon arrived but the spotlight repulsed him. It also affected his ODI form and after a poor 2007 World Cup he relinquished the armband to focus on his batting and was consequently dropped from ODIs and left out in the cold for 2 years. Still, his position in the classic format remained untouched, unquestioned. Few could match his Test achievements, which remained consistent as ever, vindicating him even when people around were losing faith. He carried his huge experience in the IPL, where he represented the Bangalore as captain in the first edition, before being bought by the Rajasthan in 2011. He was then named captain-cum-coach-cum mentor of the Royals ahead of the fifth IPL edition in 2012.
Despite being a batsman of high calibre, Dravid was not a part of the 2011 World Cup winning squad, but remained an integral cog in the Test set-up. He had a fabulous summer in England that year, notching 3 centuries in 4 Tests. In what was his final visit to the Mecca of Cricket - "Lord's", Dravid registered his name on the Honours board with a memorable ton. His performances in the Test series prompted the selectors to hand him an ODI recall and surprisingly, he received his maiden T20I call-up as well. It was his only T20 International, and even before making his debut, Dravid had already announced his retirement from the format.
Later that year, a dismal tour of Australia was followed by one of the most heartbreaking news for his fans and followers, as the strongest pillar of Indian cricket finally hung his boots from all forms of international and domestic first-class cricket. Dravid announced his retirement on 9th March, 2012, bringing down the curtains on one of the most legendary cricketing careers of all time.