Which Team Was The Most Aggressive During IPL 2021 League Stage?

T20 is a game of quick runs, and the best way to get maximum runs in a ball is to either score a four or a six. At times, it is the number of boundaries that determine which team ends up winning the match.
Let's take a look at which had the most aggressive intent by looking at the balls taken for one boundary scored during the league stage of the IPL 2021:
Trending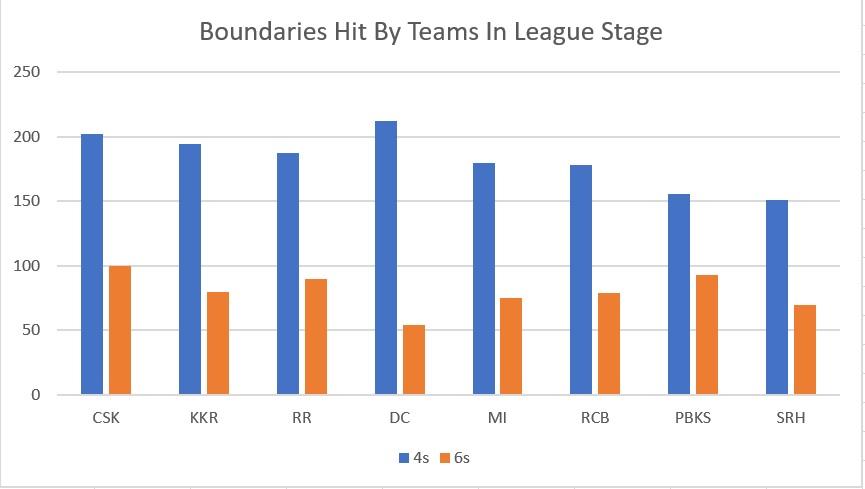 8) Sunrisers Hyderabad - 221
SRH crashed out of the league stage with just three wins in 14 matches. One of the major reasons for their poor outing this season was batters not finding and/or attempting enough boundaries. The defensive approach made them vulnerable. Hyderabad scored 221 boundaries in total, including 151 fours and 70 sixes. Their balls per boundary rate is the worst among eight teams - 7.84.
7) Punjab Kings - 249
PBKS' batting, especially middle order, misfired during the season. They heavily relied on openers to score. Considering the inconsistency in batting, the openers had to play with a bit of a cautious approach which reflects on their boundary rate. Punjab batters hit 249 boundaries in 14 matches - 156 fours and 93 sixes. It took 6.73 balls for them to find a fence in IPL 2021.
6) Royal Challengers Bangalore - 257
Despite being a batting lineup filled with star players, RCB hasn't been as dominating in batting as they would have liked. In 14 matches, Bangalore batters have hit 257 boundaries - 178 fours and 79 sixes. The Virat Kohli-led side has 6.64 balls per boundary rate.
5) Mumbai Indians - 255
Sums up MI's struggle this season. The batters failed to consistently find the fence. Mumbai hit only 255 boundaries during the league stage, including 180 fours and 75 sixes. The defending champions failed to qualify for the playoffs and one of the reasons was a poor balls per boundary rate - 6.49.
4) Delhi Capitals - 266
Delhi Capitals finished the league stage at the top of the points table yet one thing that the team will want to improve going into the playoffs will be the boundary hitting rate. In 14 matches, Delhi batters have hit 266 boundaries, including 212 fours and 54 sixes. They have hit the most fours and lowest sixes in IPL 2021. It has taken DC batters 6.28 balls to find a fence.
3) Rajasthan Royals - 277
Even though Rajasthan Royals had a poor IPL 2021, but they would be proud of the way aggressive way their batters approached the game. In 14 games, RR hit 277 boundaries - 187 fours and 90 sixes. Rajasthan batters were successful in scoring a boundary every 6.14 balls.
2) Kolkata Knight Riders - 274
KKR had a great turnaround in the second half of IPL 2021. They played aggressive cricket which reflects not only in the points table but also in the boundary rate. Kolkata hit 274 boundaries in the league stage, including 194 fours and 80 sixes. Knight Riders hit a boundary every 5.91 balls.
1) Chennai Super Kings - 302
After a poor IPL 2020, CSK turned around their approach in this season. They added aggressive batters to the lineup and followed the approach. They hit the most boundaries this season - 302, including 202 fours and 100 sixes. They smashed a boundary after every 5.68 balls.
Also Read: T20 World Cup 2021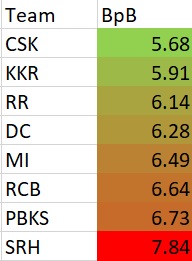 Win Big, Make Your Cricket Prediction Now