Here's Why Rishabh Pant Is Preferred Over Sanju Samson In T20Is
Rishabh Pant or Sanju Samson, who deserves a place more in the Indian team for the upcoming T20 World Cup 2022?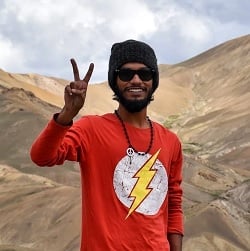 Sanju Samson, a name which has become a fan favourite due to receiving low or no chances to represent the Indian cricket team despite above-par performance in the domestic circuits & IPL. It may sound obnoxious, but Rishabh Pant, the dynamic keeper-batter has diminished Sanju Samson's chances of making it to the national team.
Through this article, we'll try to find an answer as to why Rishabh Pant is preferred over Sanju Samson for the Indian team in T20Is.
Trending

In IPL 2022, both of these players had an average season as a batter. Although Sanju Samson-led Rajasthan Royals ended up as the runners-up after reaching the finals for the first time since their title win in the inaugural season, Rishabh Pant-led Delhi Capitals were placed 5th on the points table and failed to make it to the playoffs.
But coming to the batting aspect, Rishabh Pant scored 340 runs in 13 innings at a strike rate of 151.78. The batter average 30.90 in the IPL 2022 season but had no 50+ scores to his name despite batting at #4 in 10 matches, at #5 in 2 matches and at #3 against Kolkata Knight Riders while batting first.

Sanju Samson on the other hand, scored 458 runs in 17 innings at a strike rate of 146.79 with an average of 28.62, with two fifty-plus scores to his name. Sanju's regular position to bat for Rajasthan Royals was at #3, while he batted at #4 in 4 matches and even at #5 in the match against Delhi Capitals while batting first.

Even though Rishabh Pant had no fifty-plus scores to his name in IPL 2022, the batter's strike rate was just an inch better than his counterpart Sanju Samson.
But since there's a minute difference between both batters' strike rate and average, let's dive deeper and break down their performance phase-wise.
In the powerplay or the first six overs, Rishabh Pant didn't get to play as many balls as Sanju since the latter played at #3 and had to come out to bat in the powerplay 11 times as compared to Rishabh Pant's 7 innings inside the powerplay.
However, Rishabh Pant has shown a much better strike rate than Sanju Samson inside the powerplays and since Pant batted at #4, it was crucial for his team as they had already lost two wickets inside the powerplay.
Middle overs are where the T20 specialists focus nowadays. Earlier, middle overs used to be the 'slow overs' where the run rate would be low as the batters wouldn't risk losing their wicket and their chance to go all out in their attack in the death overs.
However, in a 20-over game, you can lose wickets every 2 overs and still bat out the entire 20 overs. Batters started attacking in the middle overs to score most runs and the teams managed to turn the matches around based on the new attacking approach adopted for the middle overs.
In the middle overs, Rishabh Pant is ahead even though just inches away from Sanju Samson in terms of strike rate. Although Sanju was placed 8th in the batters with most runs in middle overs in IPL 2022, this is due to the fact that he simply played more matches.
Coming to the death overs, here's where Sanju Samson gets finally ahead of Pant in numbers. With a strike rate of 214.28, one may go for Samson to finish for their team in the death instead of Pant. However, with 3 dismissals in comparison to Pant's one dismissal in the death, people may have varied opinions.

Since these numbers are too close to draw a conclusion, let's take a look at how these batters fare against pacers and spinners.
Rishabh Pant had a strike rate of 145.05 against pacers while Sanju Samson struck at 138.70. However, Samson played 186 deliveries against pacers in comparison to Pant's 91 deliveries.
Sanju has been known and even seen to be uncomfortable against leg spinners, but surprisingly his strike rate against spin was just a bit better than Rishabh Pant's strike rate against spin in IPL 2022. However, Sanju was dismissed 6 times against spin in 126 balls while Pant got out thrice in 133 balls.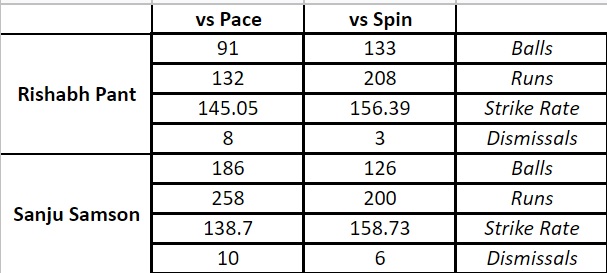 So, how do we decide between two wicket-keepers & middle order batters, who bat at a more or less similar strike in different phases of the game as well as the bowling types? If the selection is so difficult, why is Rishabh Pant preferred over Sanju Samson?
Rishabh Pant has a slightly better overall as well as strike rate in different phases except in death overs, the huge plus for the Southpaw is being a left-hander. With not many lefties in the Indian team, Pant offers a different option to generate combinations required to tackle the team, as well as an option to take on the spinners in the middle overs to up the run rate for the team.
Also Read: Scorecard
Sanju Samson has been included in the T20I squad for the first T20I against England to be played on July 7th, while Rishabh Pant will replace him for the next two T20Is as he was part of the test team which completed the final test against England on July 5th.