Which Team's Spin Department Has Perfectly Executed The Role In IPL 2022?
A look at how teams have given roles to their spinners and if they have done their role to perfection.

In every team sport, each player has a role to play. Whenever a squad is picked, a team picks players according to how the roles they plan. In T20, if there is no clarity and distribution of roles then the team won't be able to sustain for a long time. Team Construction is an art and every IPL season gives us case studies on how teams build a team and what roles they give to players.
Spinners play a key role in T20, especially in India - they bowl the majority of the middle overs, the phase where most T20 matches can be won or lost depending on how a batting team performs. Powerplay(1-6) and slog overs(17-20) are the phases where batters look to attack the most but middle overs are a tricky phase.
Trending

In this season's IPL, most of the franchises took the defensive-offensive approach when it comes to giving roles to spinners. The defensive role meant that spinner will be the one whose role is to be economical from one end even if he doesn't pick wickets. The offensive spinner was the one who was given liberty to attack so as to pick wickets.
Characteristics of a defensive spinner include him bowling in flatter trajectories i.e not giving enough flight, bowling back of the lengths, and wicket-to-wicket lines. If a spinner keeps bowling this, the batter would have to take a risk to go after him.
Characteristics of an offensive spinner include bowling giving more flight to the ball, bowling full, and keep inviting the batter to attack him. When the batter accepts the challenge, the result will be either a wicket or a six. Apart from Sunrisers Hyderabad, Mumbai Indians, and Gujarat Titans, the rest of the seven IPL teams went in with this approach for the 2022 season.
Delhi Capitals: Axar Patel and Lalit Yadav were the spinners used for defending runs and Kuldeep Yadav was the attacking spinner. These three spinners have combined to bowl 103.4 overs.
Kuldeep has bowled 45.4 overs, Axar 40, and Lalit 18. The combined economy of these three spinners is 8.05 and the trio has combined to pick 30 wickets - Kuldeep has picked 20 wickets in this.
If we only consider Axar and Lalit, these two have a combined economy of 7.85 and took 10 wickets - a decent return. Axar has been very economical in 40 overs, giving just 7.37 runs per over. Lalit's returns haven't been that fruitful - 8.33 eco and four wickets. Kuldeep has an economy of 8.45 and picked 20 wickets. This was the risk and he has had fairly decent returns.
Overall, DC spinners have faired decently in what was their role and what has been the result so far.
Kolkata Knight Riders: Sunil Narine and Varun Chakaravarthy were the two spinners of KKR this season. Narine's role was to defend and Varun had to go for the wickets. Narine brilliantly played his role as his returns read - 5.57 econ in 56 overs and nine wickets. However, Varun had quite poor returns - 8.51 econ in 39 overs and six wickets.
Rajasthan Royals: R Ashwin and Yuzvendra Chahal are the two spinners used by RR and they have had brilliant returns so far. Both Ashwin and Chahal have perfectly played their role of defensive spinner and attacking spinner respectively.
Ashwin's figures in 13 games read - 7.15 econ in 52 overs and 10 wickets while Chahal in 13 matches has picked 24 wickets while bowling 52 overs at an econ of 7.76.
Lucknow Super Giants: Ravi Bishnoi and Krunal Pandya are the most used spinners this season for LSG. While Bishnoi plays the attacking role, Krunal is kept to defend.
Bishnoi has a decent return, picking 12 wickets in 50 overs that he has bowled at an econ of 8.22. However, Krunal has been outstanding on his part as his economy reads 6.64 in 34 overs while picking nine wickets.
Chennai Super Kings: The four-time champions have shuffled with Moeen Ali, Maheesh Theekshana, Ravindra Jadeja, and Mitchell Santner this season. Theekshana has been given the attacking role while the rest three play defensive.
Theekshana has picked 12 wickets in 35 overs while bowling at an econ of 7.45. Mooen, Jadeja, and Santner have combined to bowl at an econ of 7.19 in 68.5 overs and picked 15 wickets. Overall, the spinners have had a decent return for CSK.
Punjab Kings - Rahul Chahar was the main spinner for them and but they also chose to go with Liam Livingstone's bowling skills as support. Chahar has been decent with his returns - 7.71 econ and 14 wickets in 46.4 overs. Livingstone, as expected, hasn't been able to keep the runs down, conceding 9.31 rpo in 19 overs and picking six wickets.
Royal Challengers Bangalore - Wanindu Hasaranga, Shahbaz Ahmed, and Glenn Maxwell are the most used spinners this season for RCB. Hasaranga has played the attacking role while Shahbaz and Maxwell defend.
Hasaranga has been phenomenal - 23 wickets in 45 overs and an econ of 7.48. Shahbaz and Maxwell combined haven't been that fruitful though - 8.17 rpo in 44 overs and nine wickets. Shahbaz has an econ of 9.29 in 27 overs while picking four wickets. Maxwell individually has done well, conceding 7.05 rpo in 17 overs while picking five wickets.
Sunrisers Hyderabad, Mumbai Indians, and Gujarat Titans opted to go for a single spinner strategy as they hoped for their fast bowlers to do well.
SRH gave Washington Sundar the defensive role but his returns haven't been that good - 8.46 rpo in 26 overs and five wickets. Rashid Khan was the main spinner for Gujarat and he has been exceptional as expected - 6.86 econ in 51.5 overs and 16 wickets. Mumbai put their hopes on Murugan Ashwin to be their main spinner and he did decently - 7.86 econ in 29 overs and nine wickets.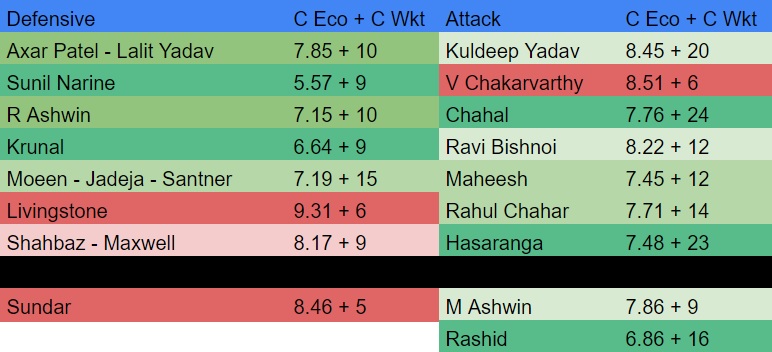 If you also notice, the spinners who are playing the defensive roles are also used more in the batting front - basically spin bowling all-rounders.
Also Read: IPL 2022 - Scorecard
The next time you want to judge any player, look at what role they are given and if they performed accordingly. That's a better and fair way to judge players, especially in the T20 format, else people will start writing off the impact of Sunil Narine or R Ashwin by only looking at the wickets column.
Advertisement