The return of AB DeVilliers and Pink Jersey
Feb.9 (CRICKETNMORE) - The fourth ODI between India and South Africa will be played on Saturday at New Wanderers Stadium in Johannesburg. India are already 3-0 up in the six match series and will be aiming for their first series win in Africa. On the other hand, the Proteas will be looking for their first victory to gain their lost confidence.
South Africa team in Pink Jersey
Also Read: Cricketing greats to mentor Pro Star League's camp

This match will be played in Pink as a part of a campaign for breast cancer awareness by the Proteas team. South African team will be seen wearing an unusual pink jersey instead of their traditional green one in the 4th ODI against India.
Interestingly, Africa never lost any of the 5 matches they have played in pink and the home side will be once again hoping the same result when they take on India on Saturday. Pink seems to be lucky with AB​ ​De Villiers​ ​too who is expected to play in the team after missing the first 3 games.
Also Read: Cricketing greats to mentor Pro Star League's camp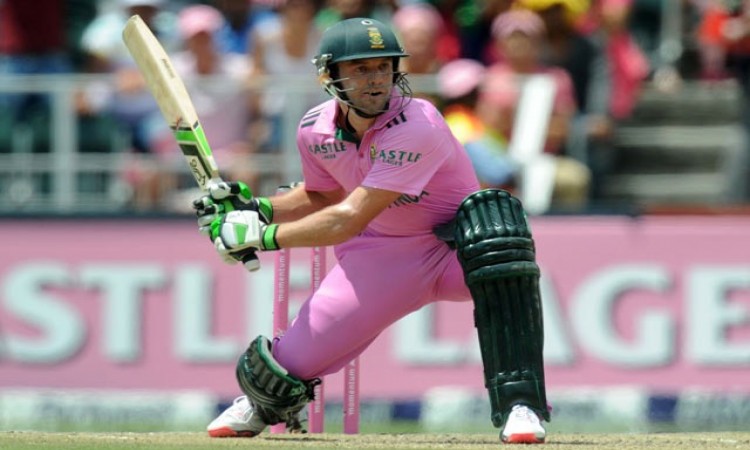 He​ ​has​ ​an exceptional record while batting in ​​pink and​ ​scored the ​​fastest hundred in ODI history at the Wanderers against West Indies three years ago in the same colour shirt. In the four match, De Villiers has played​ in pink​, he has scored 450 runs at an average of 112.5 which includes 2 centuries and 2 half centuries. ​​
De Villiers is certainly one of the most explosive batman of limited cricket and alone capable of winning matches for his team. His presence will be a big boost for the team which is certainly going through one of their worst phases in ​their ​limited over history.
South African batting line up was seen to be struggling against the Indian wrist spinner duo of Kuldeep Yadav and Yuzvenra Chahal as they failed to read them in the ODIs played so far.​ ​Together Chahal and Yadv took 21 south African wickets. DeVilliers through his unorthodox technique &​ ​​enormous experience can play wrist spinners in a better​ way​ and If he can stay at the crease for some time, chances are that other batsmen can also score runs.
Can DeVilliers' Comeback and "Lucky Pink" dress will open the victory gate for South Africa in ODI series?
---
Sahir